Solar panel energy has long been heralded as a reliable, renewable source of power, and now businesses can benefit from it too. A wise financial choice that pays off both financially and environmentally, solar power can significantly save you money on electricity bills and decrease the carbon footprint of a business. With countless Fortune 500 companies–from Amazon to Macy's to Walmart–embracing solar power in recent years, it's clear that this trend is on the rise.
Figure Out Where You Might Want Solar Panels on Your Commercial Property
Solar installation isn't limited to just roofs anymore. Solar installation can now be put in window shades, solar canopies, and on an open plot of land. There are also more aesthetically pleasing options, such as installing solar panels near architectural grilles or incorporating them into the exterior of a building while utilizing tilt-up wall construction. With all these new options available, finding a place to set up solar panels that fit your needs has become much easier.
Understand Your Solar Energy Options
When installing a solar project, one of the most important decisions is whether to opt for a ground mount or a roof mount. Examining the specifics of your area and project can help ensure you select the most appropriate option. Location restrictions, angle of inclination constraints and cost analysis may all influence your decision.
Rooftop Solar Systems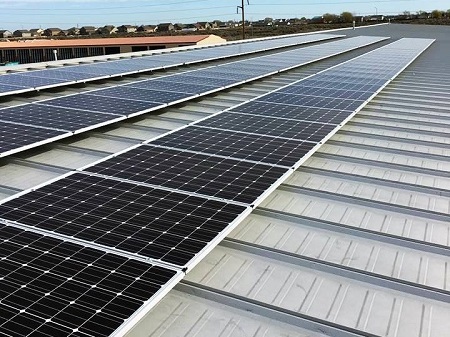 When it comes to flat rooftop systems, business owners are presented with a few choices: attached, ballasted or hybrid. Each has its benefits and drawbacks depending on the roof design features, building construction method, and structural engineering analysis. The attached systems require roof penetration which can weaken the roof but offer greater performance. Ballasted systems imply no penetration buts set up constraints due to the higher weight load on the roof system.
With the advancement of roof-mounted solar systems, commercial business owners can now take advantage of renewable energy no matter the shape or composition of their roofs. Thanks to the innovative and flexible design, these new solar arrays are suitable for slanted and curved roof surfaces composed of metal, composition shingles, wood shingles, or even Spanish tiles.
Ground Mounted Solar Systems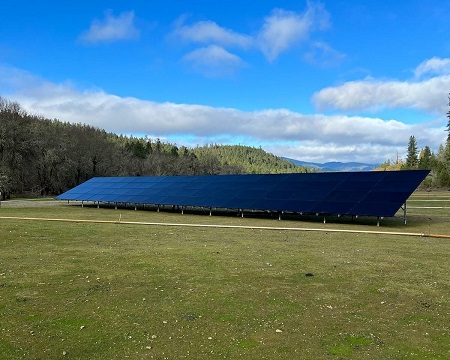 Ground-mounted solar systems offer an energy cost-effective option for businesses with disqualifying rooftops for rooftop installations. These systems can use available land to construct a sturdy structure powerful enough to generate the electricity needed. Each system's exact size and design varies depending on the business' electricity requirements, allowing for maximum efficiency and productivity.
The Construction Process
Installing a solar system on your building can be an immense undertaking. With the process of construction possibly lasting anywhere from two to several months, depending on project type and size, it's best to come equipped and prepared. Such minor disruptions include finding alternate parking spots in addition to preparing for temporary power shutdowns.
System Operation and Maintenance
To get the most out of your solar energy system and ensure it operates efficiently over its lifecycle, good care and maintenance will be needed. When considering prospective solar companies, look for a contract with provisions that clearly specify the responsibility for maintenance – by both you, as well as the chosen company. The most reputable companies will have a solid track record for providing excellent long-term support in addition to basic annual inspections, warranty repair and performance monitoring. Choosing the right team for your solar design and installation can ensure that your energy system installation has proper ongoing care and can generate maximum power throughout its lifespan.
Look Into the Legal Requirements for Installation on Your Property
Before installing a commercial solar system, it is essential to begin by researching and confirming the legal requirements you'll need to be compliant with your area's safety and zoning regulations.
Depending on your location, you may need to acquire the following:
Electrical permits
Building permits
An interconnection agreement with the local utility company
Applications for state or federal solar incentive programs
Many of these processes can be completed by your solar panel installer, but it's still wise to understand what needs to be filed personally. After all, some tax credits offer significant rebates and other financial assistance that could go a long way in helping offset installation costs. Therefore, it's important for any commercial business looking into installing a solar system to confirm all necessary permits beforehand.
Understand How Much You Will Profit from Installing Solar Systems
Going solar is a no-brainer for businesses large and small. Why? Because in only about 3 to 6 years, the average commercial energy system pays for itself — and then all the energy it produces is yours free of charge. You'll save money on your monthly utilities, see a return on your investment, and lower your carbon emissions – what's not to love?
Plus, with government rebates and money incentives frequently available, you can rest assured that you're getting the best deal possible for going solar. With a growing trend of businesses proudly claiming their status as "net zero energy" producers via renewable sources like solar, the decision has never been easier – or more financially lucrative.
Look Into Possibly Receiving Tax Credits
Investing in solar energy can provide a number of potential tax benefits for businesses. Federal and state/local governments often offer various tax incentives, such as giving tax credits, that can reduce the cost of implementing new solar systems. These programs and incentives are constantly evolving, so it's essential to stay informed of the most current information that applies to your specific location and business commitments. Evaluating what is available in terms of solar incentives can be an effective way to minimize the cost of making a sound investment in solar energy technology.
Contact Pro-Stat Solar For Your Commercial Solar Panel Installation
At Pro-Stat Solar, we understand the importance of energy savings and want to make it as easy for you as possible! That's why our qualified contractor team works hard to ensure that each customer gets the individualized experience that they need to determine their energy needs and what kind of return on investment they can expect.
We don't just offer great commercial customer service; we provide solutions that are tailored to each customer's specific needs when it comes to installing solar panels on your business. By choosing our solar panel installation company to take care of your solar power installation, you know that you are getting the best in value and convenience. Don't wait any longer—give us a call today and get started on your next step toward investing in renewable energy!
The benefits of choosing Pro-Stat Solar:
Help you reap all of the financial benefits you can.
Help you gain federal tax credit on your investments.
An un-matched 25-year workmanship warranty
Visit our About Us page for more information about our clean energy company!