Solar power is an increasingly popular option for those looking to lower their energy bills and reduce their environmental impact. Solar panels work by converting sunlight into electricity, which can then be used to power your home or business. There are many benefits to installing solar panels, including the fact that they are a renewable source of energy and can help you save money on your energy bill. Solar panels also have a very long lifespan and require little maintenance, making them a very cost-effective investment. If you are considering the switch to solar energy, there are a few things you need to keep in mind. Answering the questions below can help determine if your home is the right fit for solar panels.
1. WHAT IS THE SIZE OF YOUR ROOF?
The size of your roof is one of the main factors that will determine if solar panels are a good fit for your home. If you have a large roof, there is a good chance that you will be able to accommodate the number of solar panels needed to generate enough power for your home. However, if your roof is too small, you may not have enough space to install the number of panels needed to make a significant impact on your current energy usage and, ultimately, your electricity bills.
In either case, it's important to consult with a professional before making a final decision. They can help you assess your energy needs and determine the ideal number and size of panels for your home. With their help, you can ensure that your roof is the perfect fit for solar panels.
2. HOW OLD IS YOUR ROOF?
The age of your roof plays an important role in whether or not your home is suitable for solar panels. A solar panel system can last for decades, so it's important to make sure that your roof will be able to support the panels for the long term. If your roof is nearing the end of its lifespan, it may be necessary to replace it before installing solar panels. On the other hand, if your roof is relatively new, you'll likely have no problem installing solar panels.
3. WHAT IS THE ANGLE AND PITCH OF YOUR ROOF?
The angle and pitch of your roof can have a big impact on how effective solar panels will be at generating power for your home. In general, solar panels work best when they are installed on a south-facing roof that has a slope of around 30 degrees. This allows the panels to capture the maximum amount of sunlight throughout the day. However, solar panels can still be effective even if your roof doesn't perfectly meet these requirements. Ultimately, the best way to determine if your home is suitable for solar panels is to consult with a qualified installer.
4. WHAT MATERIAL IS YOUR ROOF MADE OF?
Solar panels are a great way to reduce your carbon footprint and save on energy costs. But not all roofing materials are equal when it comes to solar panel installation. Asphalt shingle roofing is one of the best materials for solar panels, as it is easy to install and provides a secure base for the panels. Wood and slate roofs, on the other hand, are not ideal for solar panels. Wood roofs can be damaged by the weight of the panels, while slate roofs can be difficult to drill into. As a result, asphalt shingle roofing is often the best choice for those looking to install solar panels on their home.
Other compatible roofing materials:
Tile Roofing
Metal Roofing
5. WHAT DIRECTION IS YOUR ROOF FACING?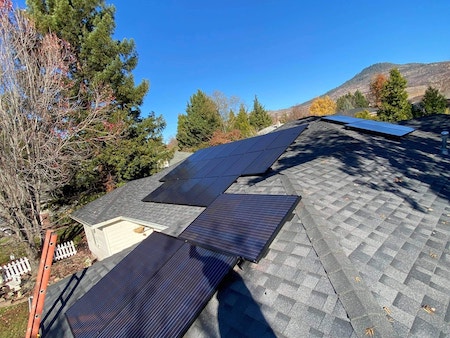 The direction your roof is facing can have an impact on whether or not solar panels would be a good fit for your home. For example, if your roof is facing south, it will receive the most direct sunlight throughout the day and is therefore considered the best orientation for solar panels. North-facing roofs receive less direct sunlight, while east- and west-facing roofs fall somewhere in between. However, there are a few other factors to consider when determining the feasibility of solar panels for your home.
6. IS ANYTHING OBSTRUCTING YOUR ROOF?
While the direction your roof is facing is important, there's another key factor in play. Is there anything obstructing your roof? Is there a lot of shade surrounding your roof?
Shade from trees, buildings, and other structures can block the sun from reaching the solar panels and prevent them from generating electricity. In order to maximize the efficiency of your solar panels (solar production), it is best to install them in an area that receives direct sunlight for most of the day. If your roof is shaded for a significant portion of the day, you may want to consider installing solar panels on a different structure.
With careful planning, you can ensure that your solar panels are able to generate electricity even when there is some shade present.
YOUR LOCAL SOLAR PANEL PROFESSIONALS
At Pro-Stat Solar, we continuously strive to be the leading installer of solar panels in Vancouver and the surrounding areas. We're committed to providing our customers with an exceptional experience from start to finish, and we take pride in our workmanship. Our experienced team of professionals will go above and beyond to ensure that your system runs smoothly over its lifetime. And because we've been around since 2009, we have plenty of experience under our belts – so you can rest easy knowing that your project is in good hands.
Pro-Stat Solar is the best choice for your solar panel installation. We are fully licensed, insured and certified to provide an installation following all best practices. Our team of solar contractors will make sure that your system is installed correctly and efficiently so you can start saving money on electricity right away! Did we mention that we also offer financing options? Call us today!
Benefits you stand to gain by installing a solar system:
Clean and renewable energy source
Decreased utility bills
Backup power
Additional possible incentives/rebates from the government
And much more!